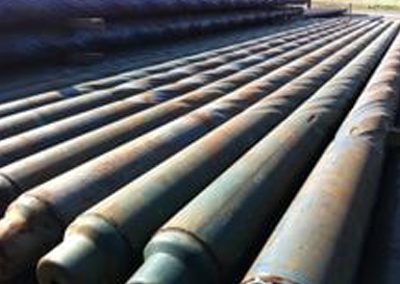 E&M Supply Group offers new, used, re-manufactured, and stock drill collars. 
The new drill collars we provide come from only reputable steel manufacturers and are made to outperform all industry requirements. Used drill collars, which can be hard to find in good useable condition are also offered.  At E&M Supply Group, much time and resources are devoted to finding these rare gems. We also supply remanufactured drill collars. Remanufacturing is a long-used method of extending the overall length and life of a used drill collar. Finally we sell drill collars for stock use, where they are cut to length and used to make other industry tools.
About Drill Collars
Drill collars are extremely heavy-duty industrial tubular used to drill into the ground and are used in conjunction with drill pipe. While drill pipe makes up the majority length of a drill string, drill collars make up only a small amount. For example: a 10,000ft drill string may be comprised of 9,000ft of drill pipe, and only 500ft of drill collars. Much like drill pipe, drill collars are made in 31ft lengths and are screwed together vertically on the drilling rig. In contrast, to drill pipe, drill collars are thick-walled and heavy, with very limited flexibility. Drill collars are used at the bottom of the drill string, just above the drill bit. They are used mainly for weight on the drill bit but also work as a shock absorber to dampen the vibrations and impact forces caused by drilling. There are two main types of drill collars, slick or spiral grooved, however, both styles accomplish the same task. Spiral groove drill collars were introduced in more recent years and are thought to help prevent the drill string from getting stuck in the hole by allowing drilling debris and lubricant to pass more freely around the drill collar.